Expert asbestos remediation services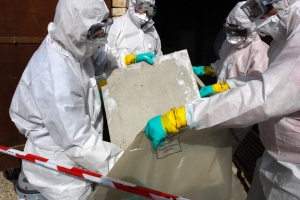 ACM Removal provides certified residential and commercial asbestos remediation, and abatement services, plus inspections, testing, surveys, consulting and project design.
We are a KDHE-licensed asbestos contractor with EPA-certified staff whose combined industry experience totals of over 130+ years. We are the state's top-rated asbestos removal company and have completed several thousand jobs since our founding in 1996.
Our asbestos removal services and process
Testing– We test materials to determine if they contain asbestos. We can walk you through how to take a sample and deliver it to us or, if desired, we can collect the samples for you.  It is a good idea to sample suspicious building materials before renovations or other activities that could place building occupants at risk.
Inspection – Our EPA-certified inspectors visit your building to look for materials that may contain asbestos and, take samples for lab testing. Following our inspection, we provide a comprehensive report that details our findings. We recommend inspections during ownership changes of buildings, when considering renovation or demolition work, or when required by law, such as the regular inspections required for schools.
Abatement – EPA-certified workers and supervisors use government-mandated work practices to deal with asbestos safely and efficiently. Our staff first constructs a containment area to isolate the workspace from the rest of the building. They then operate a machine that creates negative air pressure to that filters asbestos fibers out of the air and prevents contaminated air from escaping into surrounding areas while we remove or encapsulate the asbestos-containing materials. Finally, we take an air sample to ensure the work area is safe for re-entry before removing the plastic containment.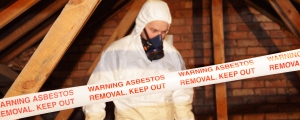 Disposal – All asbestos-containing material is disposed in KDHE-permitted landfills in compliance with state and federal regulations to protect our customers, the general public, and the environment.
Assurance – We take an air sample from the workspace for third-party analysis before removing our plastic containment and provide a project closeout document that includes a waste manifest tracking the asbestos to the KDHE-permitted landfill. If additional outside verification is required, ACM Removal will arrange for a third-party firm to collect the air samples and document the area can be safely reoccupied.
We pride ourselves on delivering safe, high-quality work, on-schedule, and with excellent customer service.
Questions about asbestos?
Learn more about this topic on our Frequently Asked Questions page. Have a question about your house or business? Call us at 316.684.1800.
Contact ACM Removal now.
Let us ensure your home or business is safe. Contact us now to request a site visit and proposal.